The revolution of Meiji Restoration was achieved mainly by the Meiji emperor.
Drawn with strict faithfulness to the histrical facts, the 80 masterpieces show the brave figures and historic scenes of the brilliant era.
They are great works of art created by top artists, and are also precious historical records that show the politics, culture, and manners of the era.

The murals are displayed to show the events from the birth to the demise of the Meiji emperor in chronological order, with the titles of the works representing the events.
The first 40 works are Japanese-style paintings, while the latter 40 are Western-style works.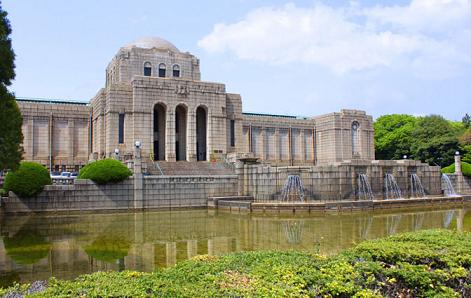 Meiji Memorial Picture Gallery is illuminated from sunset to 10:30 p.m.
Commencement of construction
March 1918
Completion of construction
October 22nd, 1925
Design
Based on the drawing by Seisyou Kobayashi that was chosen as the best work from among 156 enteries from the public.
The original drawing was modified by Meijijingu Zoeikyoku (building department).
Construction
Armored concrete construction. Granite from Mannari, Okaya, is used for the exterior walls.
Domestic marble stone is used for the surface of walls, except the atelier walls, and for the central dome.
Tiles are also used for some parts of these walls and the central dome.
Dimensions
Length
112 meters from east to west
34 meters from south to north
Height
Top of the central dome 32 meters above ground
Two wings 16 meters above ground

| | |
| --- | --- |
| Regular hours | 9 a.m. to 5 p.m. (last admission 4:30 p.m.) |
| New Year period (December 30th to January 2nd) | 10 a.m. to 5 p.m. (last admission 4:30 p.m.) |
※Open year round (The gallery may be closed on certain days. Please inquire.)

| | |
| --- | --- |
| Contribution for maintenance | \500 |