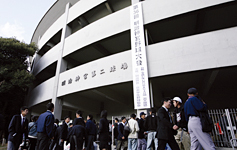 This venue was set up as the Meijijingu Sumojo (sumo ring) in 1926, and was also used for professional sumo tournaments.
Following a 1961 renovation, it became the Jingu Secondary Stadium, and in 1993, water-permeable artificial turf was installed.
Jingu Secondary Stadium has been used for the Tokyo regional qualifying games for the National High School Baseball Championship and for Division-2 games of Tohto University Baseball League. The stadium operates as a Golf Driving Range when not used for baseball games, and is not available for rent by the public.